At Veterinary Village and International Canine Semen Bank your pets are special to us
Our passion is to make you and your pet feel safe in good times and times of crisis. We understand pets are part of your family. And when you visit us, your pets become a part of our family too.
We want to be YOUR veterinarian.
Our practice provides state-of-the-art veterinary care, as well as breeding and reproductive services. We are proud to offer our patients a full range of services including pet wellness care, pet dentistry, pain management, spay and neutering, pet pharmacy, laser therapy, euthanasia, and more. Canine reproduction is one of our special interests and we provide comprehensive breeding management services.
We try to make scheduling a veterinary appointment as convenient as possible for you. There are several ways to easily schedule an appointment for your pet to be seen at our veterinary clinic:
Get to know your veterinarian
We have found the key to quality veterinary care is a combination of medical competence, empathy for pet owners and compassion for our animal companions. Our veterinarians will listen to your concerns, diagnose any medical conditions, help you understand your options and work with you to make the right decisions for you and your pet.
At Veterinary Village, our team is made up of a diverse group of veterinarians and support staff professionals who bring their love for animals to work with them every day. Our veterinary team comes from all backgrounds, and they have joined Veterinary Village because of their desire to make a difference in the lives of animals, as well as the people who love those animals.
To learn more about our dedicated veterinary team, please click here.
Our Animal Hospital Offers Cutting Edge, Affordable Care
Veterinary Village is an animal care facility equipped to handle all medical and surgical needs. From preventive health care services to advanced diagnostic and surgical services, our doctors and staff are trained to manage all of your pet's needs. We are continually updating our equipment and educating our team to the latest medical information. We know that everyone has a budget and we will work within the confines of your budget to get the best outcome for your pet.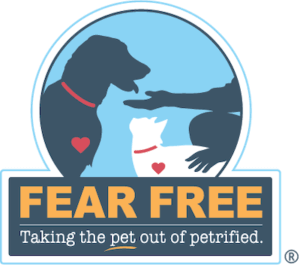 At Veterinary Village we employ Fear Free practices to try to make your pet's visit to us as relaxed as possible. While there are many Fear Free practices we use, one of them is offering treats like peanut butter and chicken baby food to give your pet a distraction while we do exams and testing to reduce anxiety and stress. We know that a Fear Free experience is a benefit to you, your pet, and also our staff.
We are a full service pet hospital
Our pet hospital offers the following services for cats and dogs of all breeds, ages, medical conditions and lifestyles:
Learn More