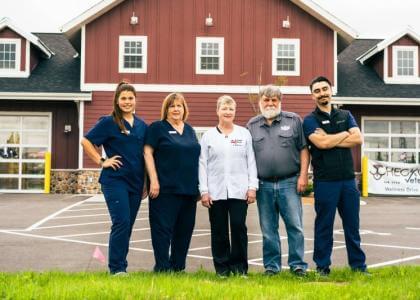 Veterinary medicine has provided the same style of patient care for the last 75 years.
The question is why have veterinary clients been subjected to hauling their pets in from the car, across the ice or through sweltering heat, through the doors, across the lobby, and into an exam room where they wait and wait and ……… wait. Clients get bored, their pets get claustrophobic. And they wait some more.
Is there a better way? Yes, and it IS Checkout Veterinary Care.
What is Checkout Vet? It is a client and pet-centric wellness center for dogs and cats. The focus is convenience, safety, and security as well as reducing patient and client stress and anxiety.
Read more about this unique and innovative business Dr. Greer has built to better serve the pets and owners of Sun Prairie, Fond du Lac, Lomira, and beyond!